Please be safe on the ice!

Be careful on the ice whether you are ice fishing, snowmobiling or anytime you are on a lake or river. We want you to stay safe! Many factors other than thickness can cause ice to be unsafe. White ice or "snow ice" is only about half as strong as new clear ice. Double the thickness guidelines shown below when traveling on white ice. The Minnesota DNR does not measure ice thickness on Minnesota lakes. Your safety is your responsibility. Check ice thickness at least every 150 feet.
Temperature, snow cover, currents, springs and rough fish all affect the relative safety of ice. Ice is seldom the same thickness over a single body of water; it can be two feet thick in one place and one inch thick a few yards away. Check the ice at least every 150 feet.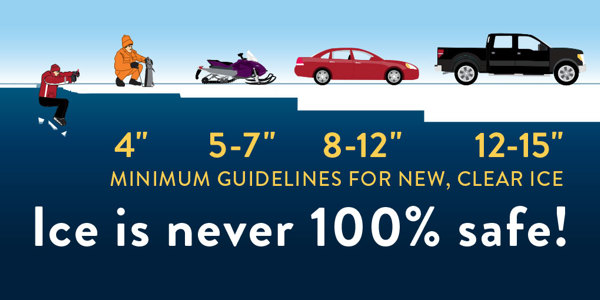 Latest News
23-Jan-2019
On Tuesday (1-22-2019) morning at 9:03 am a fish house break in was reported on Fairy Lake, the incident happened sometime over the weekend. The rear window was broken out of a 16 foot white ice castle fish house and smaller flat screen TV was taken. If anyone has any information on this incident please contact the Todd county sheriff's office.
On Tuesday (1-22-2019) morning at 6:35 am Alexis Kizer of Burtrum was driving her 1997 Chevy blazer east on county road 2 south of Grey Eagle when she lost control due to the snow on the road. The vehicle went into the ditch and rolled on its side. Kizer was not injured. Grey Eagle fire assisted the Todd county sheriff's office at the scene.
Upcoming Local Events & KEYL/KXDL Events
Get ready to shop Long Prairie if you're one of two winners of the Long Prairie Shopping Spree from Hometown Radio KEYL and 99.7FM Hot Rod Radio. 2 winners will each receive $500.00 in Long Prairie Chamber bucks and a list of our participating sponsor locations where you must spend the cha..