Cool Christmas Cash Winner
Congratulations to Jeremy Nelson of Long Prairie. Jeremy registered at Jim Woeste Auto in Long Prairie. He won $1000.00 with the Cool Christmas Cash Giveaway! Be listening for your next chance to win from KEYL & Hot Rod Radio.
Marines Invade KEYL/KXDL Radio!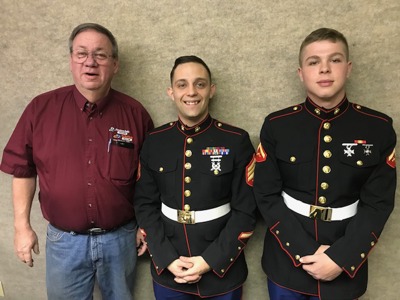 Pictured L-R: Allen Bailey, KEYL/KXDL; Sgt Robert Pildner and LCpl Dyson Kramer. The two marines were on Open Mic on Friday Decmeber 14th. Sgt Pildner is on recruiting assignment from Brainerd. LCpl Kramer is a Marine Reservist. Sgt Pildner was deployed with Allen Bailey's son, Taylor, last year. Bailey and Pildner met at the National Night Out in Long Prairie this year. Sgt Pildner is originally from Pigeon Forge, TN and is having a hard time adjusting to the cold. LCpl Kramer and staff at the radio station assured Sgt Pildner that this is not cold for this time of year.
Please be safe on the ice!
Be careful on the ice whether you are ice fishing, snowmobiling or anytime you are on a lake or river. We want you to stay safe! Many factors other than thickness can cause ice to be unsafe. White ice or "snow ice" is only about half as strong as new clear ice. Double the thickness guidelines shown below when traveling on white ice. The Minnesota DNR does not measure ice thickness on Minnesota lakes. Your safety is your responsibility. Check ice thickness at least every 150 feet.
Temperature, snow cover, currents, springs and rough fish all affect the relative safety of ice. Ice is seldom the same thickness over a single body of water; it can be two feet thick in one place and one inch thick a few yards away. Check the ice at least every 150 feet.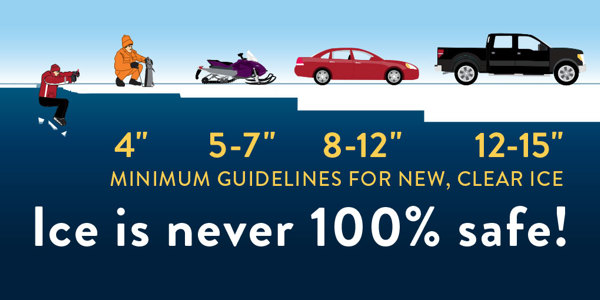 Are you outgoing and creative? KEYL and Hot Rod Radio in Long Prairie has an immediate opening for an Advertising Sales Representative. Successful candidate will be meeting with new and current advertisers in the area to develop advertising campaigns to increase business. Must have a genuine desire to work with people, have a valid driver's license as well as a dependable car, and able to lift up to 50 pounds. We're looking for someone who is comfortable speaking to people in public, can make presentations, build good customer relations and have good computer skills. Salary plus commission. Apply in person at 221 Central Avenue Suite 6, Long Prairie, Minnesota 56347. Or email resume to: hotrodfm@rea-alp.com or regular mail to Allen Bailey, KEYL/KXDL PO Box 187, Long Prairie, MN 56347. KEYL/KXDL is an equal opportunity employer.
Latest News
Upcoming Local Events & KEYL/KXDL Events